Find A Dentist To Help You With Denture Repair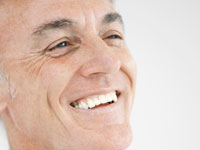 A frequent cause of a broken, chipped, or cracked denture is the impact of dropping it on the bathroom tile or into a sink. Sometimes damage to dentures happens when they are left in a place where children or pets are able to get at them let a dentist help you with that denture repair.
Dentures should be handled and stored carefully once out of the mouth to avoid chipping, breaking or damaging the pink denture base or the denture teeth.
If your denture is broken or damaged, visit a dentist to make sure that the denture repair provides the best denture fit, function, appearance and oral health.
Do-it-yourself denture repair can cause more damage than good to your denture and result in your needing a new denture. Do-it-yourself denture repair also can be very destructive to the gum tissues and bone ridges and cause irritation and sores.
A dentist has the training and qualifications, as well as the right instruments, supplies, and tools best suited to properly perform a denture repair.
If your denture is broken, keep any broken pieces of the denture. To prevent distortion of the denture, store the pieces in room temperature water until your dental appointment. The dentist will examine you and the denture and determine how to best restore the denture to its original condition.
Some denture repair, such as replacing a denture tooth, can be accomplished quickly, often in-office on the same day. More complicated breaks, such as a fracture of an edge that rests on the soft tissue inside the lips or cheeks, may involve obtaining impressions of your mouth and having the denture sent to a dental laboratory for the denture repair.
The ability to properly repair a denture depends upon the extent of denture damage, the past home care of the denture, the age of the denture and the fit of the denture at the time it was broken.
To maintain the best possible oral health and to avoid causing more damage to your denture, see a dentist for evaluation and denture repair. Often, home denture repairs require more extensive and costly reconstruction later.
by Denise J. Fedele, D.M.D., M.S.
Common Questions About Affordable Dentures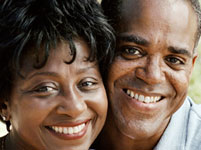 New experiences generate many questions. Here are some frequently asked questions patients often ask about dentures.
Affordable Dentures Are All the Same, Right?
No. Maintaining good oral health is important to denture wearers. Mail-order services offering discounts on dentures cannot provide the custom fit you need for good oral health. Poor-fitting dentures cause chronic irritation, contributing to mouth sores and changes in the bone or gum tissues. Your dentist wants you to enjoy a comfortable fit, and will carefully measure and prepare your mouth for affordable dentures. Dentists work with reputable dental labs where skilled technicians create your custom-fit, affordable dentures for maximum comfort.
Will My Eating Habits Need to Change?
Actually, there are very few eating restrictions for denture wearers. If you experience eating difficulties at any time, it is important to contact your dentist. Poor-fitting dentures can contribute to eating difficulties. Dentures that fit right are vital for enjoying a well-balanced diet that includes a wide assortment of foods.
Do I Have to Wear Denture Adhesives?
Dentures are custom-designed for a comfortable and good fit for you. As a result, they usually don't require the regular use of an adhesive, unless it's to stabilize dentures in need of repair. Poor-fitting dentures must be checked by your dentist as soon as possible to eliminate discomfort and the potential for irritation.
Will These "Permanent" Teeth Last a Lifetime?
Dentures are very durable but that doesn't make them indestructible. They can discolor, chip, break, and bend out of shape. With good care, affordable dentures should last for many years. Here are some tips for maintaining the appearance and extending the life of your dentures:
Use a brush designed specifically for dentures and a denture cleaner. Regular toothpaste can be too harsh for dentures.
Store dentures in a container of denture-cleaning solution or water. /li>
Soak in warm, not hot water. Hot water can damage their shape.
Use an effervescent cleansing tablet once a week to kill odor-causing bacteria.
Affordable dentures offer many benefits to the millions who wear them. While they take some initial adjustment, they can enhance your smile as well as your long-term confidence. Return to your dentist at least once a year to evaluate fit, appearance, and to receive an oral cancer screening.
by Brian J. Gray, D.D.S., M.A.G.D., F.I.C.O.