New Complete Dentures
Every patient is eager to see what their new dentures (or false teeth) look like, and for good reason. But how can you judge if it's really going to be grand?
Coco Chanel, the world-renowned fashion designer, once said that if you notice a lady's clothes, she's poorly dressed; if you notice the lady instead, she's impeccably dressed. That same philosophy can help prosthodontics wearers to assess for themselves what looks right.
During the wax try-in appointment, when you're "fine-tuning" your replacement teeth, you may be tempted to peer at them while holding them in your hands, or evaluate what you see in the mirror through bifocals. While this "view" will give you an idea of the construction of your new denture, it's not how other people will see it.
What goes into creating good complete dentures?
Your prosthodontist can create a rugged or delicate, masculine or feminine, assertive or passive, youthful or mature look. Youthfulness can be achieved by a curved smile line, showing the two front teeth more than those on each side, and having a darker translucent edge on those front teeth. False teeth can be brought down where they are more visible and placed further forward to plump out a thin upper lip. If teeth are arranged evenly in a flat line, it makes a person look older.
Any of these qualities can be realized in a new denture, but they won't show while it is in your hand. A good denturist invests time and all his care to make your denture look best, in your mouth, where it belongs. Look at your dentures in the mirror from a conversational distance, while you talk or smile. And if your friends don't notice it, your prosthodontist has done a good job.
The False Teeth Shut-In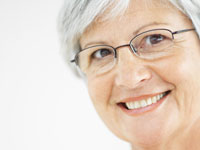 Are you a denture wearer who's afraid to be seen in public because your denture is unattractive? Do you find yourself eating alone because you can't eat foods your friends eat? Do you wear your partial dentures in your pocket?
Prosthodontics wearers, without knowing it, can become dental "shut-ins." They begin, subtly, to reorient their lifestyle around loose dentures. When false teeth don't look or function properly, some people withdraw from their social lives and suffer depression and diminished self-esteem. Some even become recluses.
Tale of a shut-in
One prosthodontics patient - a truck driver - couldn't eat properly with his cheap dentures. At truck stops, he would take his food back to his truck and eat alone. He gave up his only social activity on the road - swapping stories with other drivers over a meal. For two years, he was a prisoner in his own truck.
But many people can reverse this situation. When false teeth look and feel right, a denture wearer's whole mental outlook can brighten.
Eating gives pleasure and a feeling of security learned from early feeding experiences. It's an important part of most social occasions. When a person controls the quality and quantity of his food, he's able to achieve this sense of security and a feeling of self-esteem.
So let's start fresh.
There's no need to feel unattractive or live in fear of a denture faux pas in the company of friends and family. Your dentist can help you regain function, comfort, and a natural appearance by replacing or refitting your denture. A well-fitting denture is a small sort of miracle, but one that works wonders for your self-esteem. Don't be a shut-in. Call your prosthodontist, and start smiling again.